Roof Light Installation Pricing & Packages
We offer Residential & Business Roof Lighting – We can either install your own lights or you can Purchase one of the Complete Packages below. ( YOU KEEP ALL OF THE LIGHTS & MATERIALS WITH WARRANTY – Only pay for Labor Installation next year! )
Step 1 – Choose House Square Footage
Installation Only
Labor to Install your Lights
✔ Labor to Install Front Roof Lights

+ Guaranteed to not fall down throughout Entire Season

PRICING PER LEVEL

1 Story - $149

1-1/2 Story - $199

2 Story - $249

ADDITIONAL

Side of House - $50 Per Side

Back Side of House - $75
Complete Package
Labor & Incandescent Lights
✔ Labor to Install Front Roof Lights

✔ All Materials including Hardware, Electrical Connectors, Extension Cords & Timer

✔ High Quality Incandescent C9 Holiday Lights

+ Guaranteed to not fall down throughout Entire Season

+ * 3 Year Material Warranty

PRICING PER LEVEL

1 Story - $299

1-1/2 Story - $349

2 Story - $399

ADDITIONAL

Side of house - $100 Per Side

Back Side of House - $150
♻ LED Package
Energy Efficient Lighting
✔ Labor to Install Front Roof Lights

✔ All Materials including Hardware, Electrical Connectors, Extension Cords & Timer

✔ High Quality Incandescent C9 Holiday Lights

✔ Upgrade to Energy Efficient LED C9 Strings & Light Bulbs

+ Guaranteed to not fall down throughout Entire Season

* 3 Year Material Warranty

PRICING PER LEVEL

1 Story - $499

1-1/2 Story - $549

2 Story - $599

ADDITIONAL

Side of house - $150 Per Side

Back Side of House - $225
♻ Super Bright LED's
Energy Efficient & The Brightest
✔ Labor to Install Front Roof Lights

✔ All Materials including Hardware, Electrical Connectors, Extension Cords & Timer

✔ High Quality Incandescent C9 Holiday Lights

✔ Upgrade to Energy Efficient LED C9 Strings & Light Bulbs

✔

 Upgrade to Heavy Duty Commercial String & Light Bulbs (5 Diode Super Bright LED's)

+ Guaranteed to not fall down throughout Entire Season

* 5 Year Material Warranty

PRICING PER LEVEL

1 Story - $725

1-1/2 Story - $775

2 Story - $825

ADDITIONAL

Side of house - $200 Per Side

Back Side of House - $300
Installation Only
Labor to Install your Lights
✔ Labor to Install Front Roof Lights

+ Guaranteed to not fall down throughout Entire Season

PRICING PER LEVEL

1 Story - $249

1-1/2 Story - $299

2 Story - $349

ADDITIONAL

Side of House - $75 Per Side

Back Side of House - $115
Complete Package
Labor & Incandescent Lights
✔ Labor to Install Front Roof Lights

✔ All Materials including Hardware, Electrical Connectors, Extension Cords & Timer

✔ High Quality Incandescent C9 Holiday Lights

+ Guaranteed to not fall down throughout Entire Season

+ * 3 Year Material Warranty

PRICING PER LEVEL

1 Story - $499

1-1/2 Story - $549

2 Story - $599

ADDITIONAL

Side of House - $125 Per Side

Back Side of House - $175
♻ LED Package
Energy Efficient Lighting
✔ Labor to Install Front Roof Lights

✔ All Materials including Hardware, Electrical Connectors, Extension Cords & Timer

✔ High Quality Incandescent C9 Holiday Lights

✔ Upgrade to Energy Efficient LED C9 Strings & Light Bulbs

+ Guaranteed to not fall down throughout Entire Season

* 3 Year Material Warranty

PRICING PER LEVEL

1 Story - $699

1-1/2 Story - $749

2 Story - $799

ADDITIONAL

Side of House - $175 Per Side

Back Side of House - $250
♻ Super Bright LED's
Energy Efficient & The Brightest
✔ Labor to Install Front Roof Lights

✔ All Materials including Hardware, Electrical Connectors, Extension Cords & Timer

✔ High Quality Incandescent C9 Holiday Lights

✔ Upgrade to Energy Efficient LED C9 Strings & Light Bulbs

✔

 Upgrade to Heavy Duty Commercial String & Light Bulbs (5 Diode Super Bright LED's)

+ Guaranteed to not fall down throughout Entire Season

* 5 Year Material Warranty

PRICING PER LEVEL

1 Story - $950

1-1/2 Story - $999

2 Story - $1049

ADDITIONAL

Side of House - $225 Per Side

Back Side of House - $325
Installation Only
Labor to Install your Lights
✔ Labor to Install Front Roof Lights

+ Guaranteed to not fall down throughout Entire Season

PRICING PER LEVEL

1 Story - $349

1-1/2 Story - $399

2 Story - $449

ADDITIONAL

Side of House - $100 Per Side

Back Side of House - $150
Complete Package
Labor & Incandescent Lights
✔ Labor to Install Front Roof Lights

✔ All Materials including Hardware, Electrical Connectors, Extension Cords & Timer

✔ High Quality Incandescent C9 Holiday Lights

+ Guaranteed to not fall down throughout Entire Season

+ * 3 Year Material Warranty

PRICING PER LEVEL

1 Story - $699

1-1/2 Story - $749

2 Story - $799

ADDITIONAL

Side of House - $150 Per Side

Back Side of House - $225
♻ LED Package
Energy Efficient Lighting
✔ Labor to Install Front Roof Lights

✔ All Materials including Hardware, Electrical Connectors, Extension Cords & Timer

✔ High Quality Incandescent C9 Holiday Lights

✔ Upgrade to Energy Efficient LED C9 Strings & Light Bulbs

+ Guaranteed to not fall down throughout Entire Season

* 3 Year Material Warranty

PRICING PER LEVEL

1 Story - $899

1-1/2 Story - $949

2 Story - $999

ADDITIONAL

Side of House - $200 Per Side

Back Side of House - $300
♻ Super Bright LED's
Energy Efficient & The Brightest
✔ Labor to Install Front Roof Lights

✔ All Materials including Hardware, Electrical Connectors, Extension Cords & Timer

✔ High Quality Incandescent C9 Holiday Lights

✔ Upgrade to Energy Efficient LED C9 Strings & Light Bulbs

✔

 Upgrade to Heavy Duty Commercial String & Light Bulbs (5 Diode Super Bright LED's)

+ Guaranteed to not fall down throughout Entire Season

* 5 Year Material Warranty

PRICING PER LEVEL

1 Story - $1175

1-1/2 Story - $1225

2 Story - $1275

ADDITIONAL

Side of House - $250 Per Side

Back Side of House - $375
Installation Only
Labor to Install your Lights
✔ Labor to Install Front Roof Lights

+ Guaranteed to not fall down throughout Entire Season

PRICING PER LEVEL

1 Story - $449

1-1/2 Story - $499

2 Story - $549

ADDITIONAL

Side of House - $50 Per Side

Back Side of House - $100

ADDITIONAL

Side of House - $125 Per Side

Back Side of House - $190
Complete Package
Labor & Incandescent Lights
✔ Labor to Install Front Roof Lights

✔ All Materials including Hardware, Electrical Connectors, Extension Cords & Timer

✔ High Quality Incandescent C9 Holiday Lights

+ Guaranteed to not fall down throughout Entire Season

+ * 3 Year Material Warranty

PRICING PER LEVEL

1 Story - $899

1-1/2 Story - $949

2 Story - $999

ADDITIONAL

Side of House - $175 Per Side

Back Side of House - $270
♻ LED Package
Energy Efficient Lighting
✔ Labor to Install Front Roof Lights

✔ All Materials including Hardware, Electrical Connectors, Extension Cords & Timer

✔ High Quality Incandescent C9 Holiday Lights

✔

 Upgrade to Energy Efficient LED C9 Strings & Light Bulbs

(Save Up to 80% on your Electric Bill)

+ Guaranteed to not fall down throughout Entire Season

* 3 Year Material Warranty

PRICING PER LEVEL

1 Story - $1099

1-1/2 Story - $1149

2 Story - $1199

ADDITIONAL

Side of House - $225 Per Side

Back Side of House - $340
♻ Super Bright LED's
Energy Efficient & The Brightest
✔ Labor to Install Front Roof Lights

✔ All Materials including Hardware, Electrical Connectors, Extension Cords & Timer

✔ High Quality Incandescent C9 Holiday Lights

✔ Upgrade to Energy Efficient LED C9 Strings & Light Bulbs

✔

 Upgrade to Heavy Duty Commercial String & Light Bulbs (5 Diode Super Bright LED's) 

(Save Up to 80% on your Electric Bill)

+ Guaranteed to not fall down throughout Entire Season

* 5 Year Material Warranty

PRICING PER LEVEL

1 Story - $1399

1-1/2 Story - $1449

2 Story - $1499

ADDITIONAL

Side of House - $275 Per Side

Back Side of House - $420
Packages Add-On
Small Tree & Shrub Lighting
You get up to 3 Small Trees or Shrubs Decorated for only $100 when you add it to any of the Complete Packages above.
Includes:
✔ Mini Light Strings (Any Color)
✔ Extension Cord
✔ Labor to Install Lighting
✔ 3 Year Warranty of Materials
✎ Substitutions available – Speak with your Project Manager and they will help you decide what landscapes to add lights to!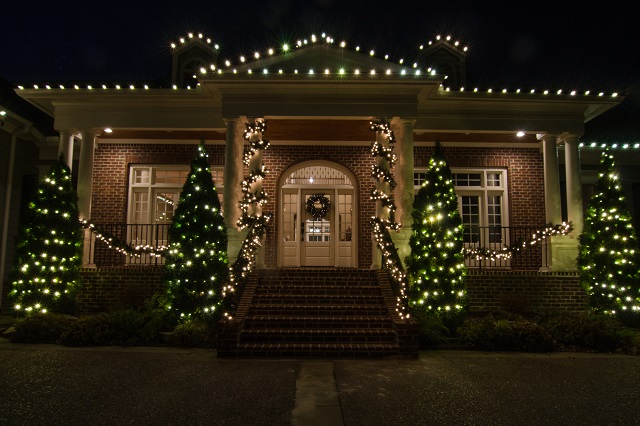 * Warranty – SA Holiday Lighting must put the lights up and take them down for warranty to be effective.
We would love to be involved in your next Holiday Lighting Project