Holiday Roof Light Installation Pricing & Packages
We offer Residential & Business Christmas Roof Lighting – We can either install your own lights or you can Purchase one of the Complete Packages below. ( YOU KEEP ALL OF THE LIGHTS & MATERIALS WITH WARRANTY – Only pay for Labor Installation next year! )
Step 1 – Choose House Square Footage
Installation Only
Labor to Install your Lights
✔ Labor to Install Front Roof Lights

+ Guaranteed to not fall down throughout Entire Season

PRICING PER LEVEL

1 Story - $149

1-1/2 Story - $199

2 Story - $249

ADDITIONAL

Side of House - $50 Per Side

Back Side of House - $75
Complete Package
Labor & Incandescent Lights
✔ Labor to Install Front Roof Lights

✔ All Materials including Hardware, Electrical Connectors, Extension Cords & Timer

✔ High Quality Incandescent C9 Holiday Lights

+ Guaranteed to not fall down throughout Entire Season

+ * 3 Year Material Warranty

PRICING PER LEVEL

1 Story - $299

1-1/2 Story - $349

2 Story - $399

ADDITIONAL

Side of house - $100 Per Side

Back Side of House - $150
♻ LED Package
Energy Efficient Lighting
✔ Labor to Install Front Roof Lights

✔ All Materials including Hardware, Electrical Connectors, Extension Cords & Timer

✔ High Quality Incandescent C9 Holiday Lights

✔ Upgrade to Energy Efficient LED C9 Strings & Light Bulbs

+ Guaranteed to not fall down throughout Entire Season

* 3 Year Material Warranty

PRICING PER LEVEL

1 Story - $499

1-1/2 Story - $549

2 Story - $599

ADDITIONAL

Side of house - $150 Per Side

Back Side of House - $225
♻ Super Bright LED's
Energy Efficient & The Brightest
✔ Labor to Install Front Roof Lights

✔ All Materials including Hardware, Electrical Connectors, Extension Cords & Timer

✔ High Quality Incandescent C9 Holiday Lights

✔ Upgrade to Energy Efficient LED C9 Strings & Light Bulbs

✔

 Upgrade to Heavy Duty Commercial String & Light Bulbs (5 Diode Super Bright LED's)

+ Guaranteed to not fall down throughout Entire Season

* 5 Year Material Warranty

PRICING PER LEVEL

1 Story - $725

1-1/2 Story - $775

2 Story - $825

ADDITIONAL

Side of house - $200 Per Side

Back Side of House - $300
Installation Only
Labor to Install your Lights
✔ Labor to Install Front Roof Lights

+ Guaranteed to not fall down throughout Entire Season

PRICING PER LEVEL

1 Story - $249

1-1/2 Story - $299

2 Story - $349

ADDITIONAL

Side of House - $75 Per Side

Back Side of House - $115
Complete Package
Labor & Incandescent Lights
✔ Labor to Install Front Roof Lights

✔ All Materials including Hardware, Electrical Connectors, Extension Cords & Timer

✔ High Quality Incandescent C9 Holiday Lights

+ Guaranteed to not fall down throughout Entire Season

+ * 3 Year Material Warranty

PRICING PER LEVEL

1 Story - $499

1-1/2 Story - $549

2 Story - $599

ADDITIONAL

Side of House - $125 Per Side

Back Side of House - $175
♻ LED Package
Energy Efficient Lighting
✔ Labor to Install Front Roof Lights

✔ All Materials including Hardware, Electrical Connectors, Extension Cords & Timer

✔ High Quality Incandescent C9 Holiday Lights

✔ Upgrade to Energy Efficient LED C9 Strings & Light Bulbs

+ Guaranteed to not fall down throughout Entire Season

* 3 Year Material Warranty

PRICING PER LEVEL

1 Story - $699

1-1/2 Story - $749

2 Story - $799

ADDITIONAL

Side of House - $175 Per Side

Back Side of House - $250
♻ Super Bright LED's
Energy Efficient & The Brightest
✔ Labor to Install Front Roof Lights

✔ All Materials including Hardware, Electrical Connectors, Extension Cords & Timer

✔ High Quality Incandescent C9 Holiday Lights

✔ Upgrade to Energy Efficient LED C9 Strings & Light Bulbs

✔

 Upgrade to Heavy Duty Commercial String & Light Bulbs (5 Diode Super Bright LED's)

+ Guaranteed to not fall down throughout Entire Season

* 5 Year Material Warranty

PRICING PER LEVEL

1 Story - $950

1-1/2 Story - $999

2 Story - $1049

ADDITIONAL

Side of House - $225 Per Side

Back Side of House - $325
Installation Only
Labor to Install your Lights
✔ Labor to Install Front Roof Lights

+ Guaranteed to not fall down throughout Entire Season

PRICING PER LEVEL

1 Story - $349

1-1/2 Story - $399

2 Story - $449

ADDITIONAL

Side of House - $100 Per Side

Back Side of House - $150
Complete Package
Labor & Incandescent Lights
✔ Labor to Install Front Roof Lights

✔ All Materials including Hardware, Electrical Connectors, Extension Cords & Timer

✔ High Quality Incandescent C9 Holiday Lights

+ Guaranteed to not fall down throughout Entire Season

+ * 3 Year Material Warranty

PRICING PER LEVEL

1 Story - $699

1-1/2 Story - $749

2 Story - $799

ADDITIONAL

Side of House - $150 Per Side

Back Side of House - $225
♻ LED Package
Energy Efficient Lighting
✔ Labor to Install Front Roof Lights

✔ All Materials including Hardware, Electrical Connectors, Extension Cords & Timer

✔ High Quality Incandescent C9 Holiday Lights

✔ Upgrade to Energy Efficient LED C9 Strings & Light Bulbs

+ Guaranteed to not fall down throughout Entire Season

* 3 Year Material Warranty

PRICING PER LEVEL

1 Story - $899

1-1/2 Story - $949

2 Story - $999

ADDITIONAL

Side of House - $200 Per Side

Back Side of House - $300
♻ Super Bright LED's
Energy Efficient & The Brightest
✔ Labor to Install Front Roof Lights

✔ All Materials including Hardware, Electrical Connectors, Extension Cords & Timer

✔ High Quality Incandescent C9 Holiday Lights

✔ Upgrade to Energy Efficient LED C9 Strings & Light Bulbs

✔

 Upgrade to Heavy Duty Commercial String & Light Bulbs (5 Diode Super Bright LED's)

+ Guaranteed to not fall down throughout Entire Season

* 5 Year Material Warranty

PRICING PER LEVEL

1 Story - $1175

1-1/2 Story - $1225

2 Story - $1275

ADDITIONAL

Side of House - $250 Per Side

Back Side of House - $375
Installation Only
Labor to Install your Lights
✔ Labor to Install Front Roof Lights

+ Guaranteed to not fall down throughout Entire Season

PRICING PER LEVEL

1 Story - $449

1-1/2 Story - $499

2 Story - $549

ADDITIONAL

Side of House - $50 Per Side

Back Side of House - $100

ADDITIONAL

Side of House - $125 Per Side

Back Side of House - $190
Complete Package
Labor & Incandescent Lights
✔ Labor to Install Front Roof Lights

✔ All Materials including Hardware, Electrical Connectors, Extension Cords & Timer

✔ High Quality Incandescent C9 Holiday Lights

+ Guaranteed to not fall down throughout Entire Season

+ * 3 Year Material Warranty

PRICING PER LEVEL

1 Story - $899

1-1/2 Story - $949

2 Story - $999

ADDITIONAL

Side of House - $175 Per Side

Back Side of House - $270
♻ LED Package
Energy Efficient Lighting
✔ Labor to Install Front Roof Lights

✔ All Materials including Hardware, Electrical Connectors, Extension Cords & Timer

✔ High Quality Incandescent C9 Holiday Lights

✔

 Upgrade to Energy Efficient LED C9 Strings & Light Bulbs

(Save Up to 80% on your Electric Bill)

+ Guaranteed to not fall down throughout Entire Season

* 3 Year Material Warranty

PRICING PER LEVEL

1 Story - $1099

1-1/2 Story - $1149

2 Story - $1199

ADDITIONAL

Side of House - $225 Per Side

Back Side of House - $340
♻ Super Bright LED's
Energy Efficient & The Brightest
✔ Labor to Install Front Roof Lights

✔ All Materials including Hardware, Electrical Connectors, Extension Cords & Timer

✔ High Quality Incandescent C9 Holiday Lights

✔ Upgrade to Energy Efficient LED C9 Strings & Light Bulbs

✔

 Upgrade to Heavy Duty Commercial String & Light Bulbs (5 Diode Super Bright LED's) 

(Save Up to 80% on your Electric Bill)

+ Guaranteed to not fall down throughout Entire Season

* 5 Year Material Warranty

PRICING PER LEVEL

1 Story - $1399

1-1/2 Story - $1449

2 Story - $1499

ADDITIONAL

Side of House - $275 Per Side

Back Side of House - $420
$100 Christmas Light Add-On Special!
Packages Add-On
Small Tree & Shrub Lighting
You get up to 3 Small Trees or Shrubs Decorated for only $100 when you add it to any of the Complete Packages above.
Includes:
✔ Mini Light Strings (Any Color)
✔ Extension Cord
✔ Labor to Install Lighting
✔ 3 Year Warranty of Materials
✎ Substitutions available – Speak with your Project Manager and they will help you decide what landscapes to add lights to!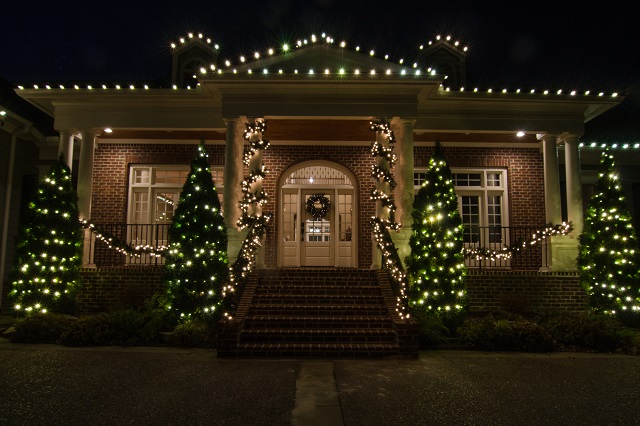 LED Lighting Frequently Asked Questions
What are LED Lights?
Holiday LED Lights (Light Emitting Diodes) are Energy Efficient Lights that are made up of a Crystal instead of a Filament which is found in Incandescent Lights. 
How Long do LED Lights Last?
LED Lights have a Lifetime of about 100,000 Hours which is 3,000% Longer than Incandescent Lights.
Do LED's Use Less Power than Incandescent Lights?
Yes. LED Lights use about 1/10 of the Power that Incandescent Lights use. We can decorate about 10 Houses in LED's with the same Power Usage as Incandescent Lighting. You can save up to 80% on Your Electric Bill by using LED's.
* Warranty – SA Holiday Lighting must put the lights up and take them down for warranty to be effective.
If you live in the San Antonio or Surrounding Areas, we would love to install your Holiday Lights.
Visit Us at our Office
8026 Vantage Dr.
San Antonio, TX 78230